Take Full Control Over Your Production Line with Zaxe Ecosystem
As Zaxe, we are working to develop the perfect ecosystem for all 3D printer users without the need for any 3rd party involvement. That doesn't mean we are not open to collaboration with other people in the industry. For example, our Zaxe Z3 model comes with OctoPi already installed and we have integrated the Klipper firmware into our system for a better 3D printing experience. But we want our users to achieve perfect productivity without needing direct support from any 3rd party both hardware and software-wise.
We call the system we developed the Zaxe Ecosystem. We develop hardware and software that harmonizes perfectly together to give the users all their hardware and software needs under one brand to deliver the most effective additive manufacturing solutions.
Zaxe 3D printers and the ecosystem that we have developed aim to provide a user-friendly, consistent, and agile production line for different industries.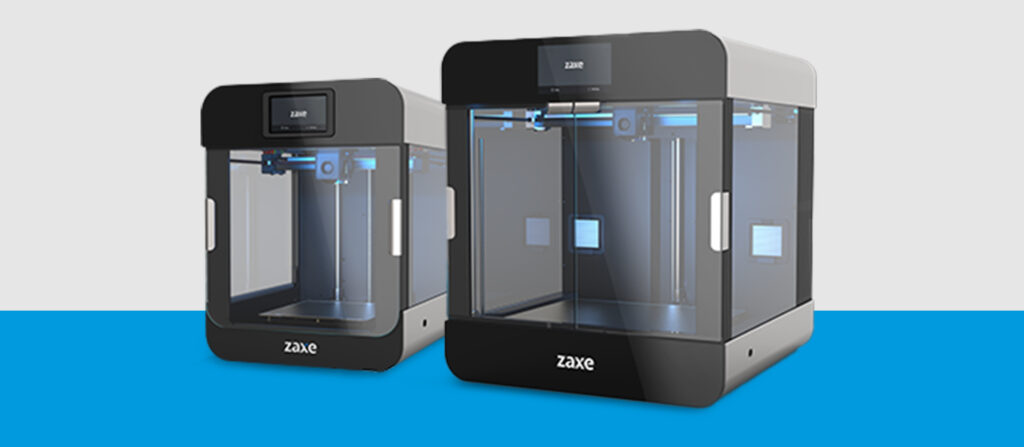 Zaxe 3D Printers
It all starts with our hardware. Our industrial-grade 3D printers were designed with manufacturers in mind to help them achieve optimal productivity. Each feature was carefully designed to give our users repeatable and reliable results every single time they use their Zaxe 3D Printers.
Our devices not only increase the efficiency of your production line but also give businesses the ability to make prototypes and test the said prototypes faster than any other manufacturing method. Zaxe 3D Printers are designed and our ecosystem is developed under the open-source principles that make the 3D printing community such a tight-knit, collaborative community.
For more information on the features of Zaxe 3D Printers: Zaxe Z3 and Zaxe X3.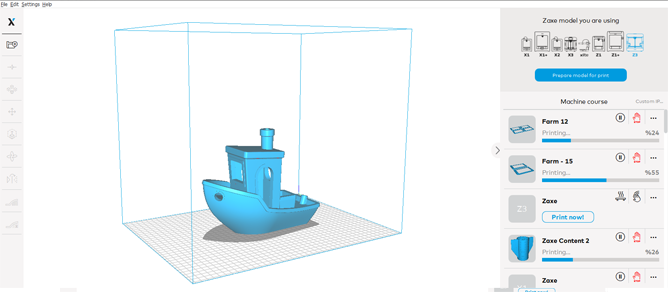 xDesktop
When we developed xDesktop, we wanted it to be an all-in-one solution to all your 3D printing software needs. With its intuitive interface, xDesktop aims to make 3D printing more available for people who are not experienced in additive manufacturing.
xDesktop automatically adjusts your settings based on the filament you are using and the properties of your model without restricting the users. You will have the option to either use the recommended settings or to use our advanced settings that grant more freedom to the user.
xDesktop is a passion project for us and our engineers are working on it every day to make it the most reliable and user-friendly slicer on the market.
Discover xDesktop and learn more about it here.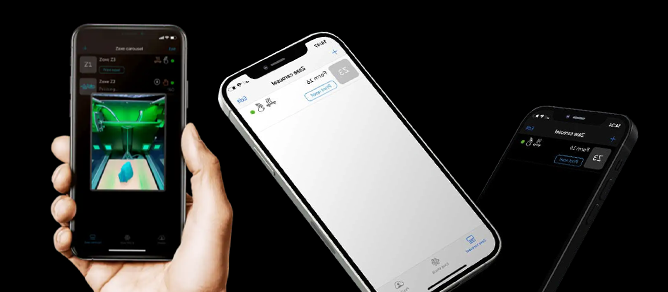 xCloud
We developed our own app to allow our users to control their printers remotely on their mobile devices. You can start and stop printing remotely and prepare your 3D printer for the next print with the help of xCloud.
xCloud is especially helpful in farm settings, as you will have the option to remotely control your printers and monitor the printing process visually with the camera we have in some of our models. Zaxe 3D Printers were designed to be a hands-off solution to all of your production needs, so you won't have to monitor the process but we still wanted to give you the ability to do so. You can manage multiple Zaxe 3D Printers from the same app and maximize efficiency with xCloud.
For more information: xCloud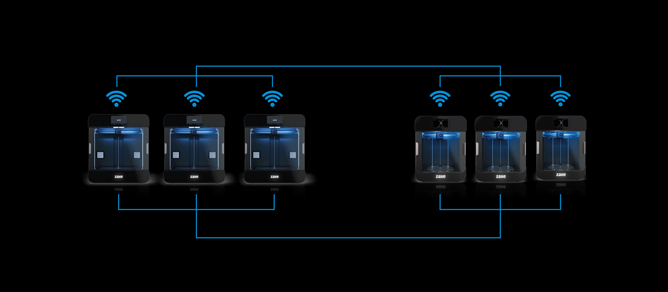 Zaxe Wi-Fi System
One of the first things that we wanted to change in the 3D printing industry was the subpar wireless capabilities that most devices had. We wanted to develop our own system to make wireless transmission of data faster and more effective.
To develop a more effective wireless system, we designed our own firmware. Now, the Zaxe Wireless System is able to transfer hundreds of megabytes of data within seconds without trouble. Thanks to the internal memory Zaxe 3D printers have, you can continue printing without any trouble even when the connection to your xDesktop is lost.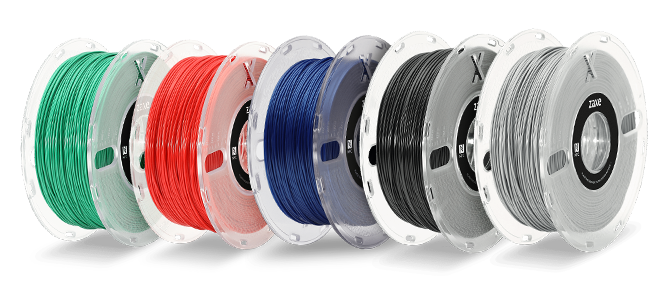 Zaxe Filaments
The quality of your filament plays a big role in the quality of the final print. Substandard filaments can cause various problems with your prints and even damage your 3D printer in the long run. We wanted our users to have a trouble-free printing experience so, we started making our own filament.
With our newly designed spools, high-quality materials, and wide selection of colors, Zaxe Filaments represent the last step of the Zaxe Ecosystem. After your filament is extruded and your print is ready, you will know that you have finished a print with Zaxe helping you every step of the way.
Check out our selection of filaments on our website: Zaxe Filaments
Start Your Transition to the Zaxe Ecosystem Today
When you start your transition to the Zaxe Ecosystem, you are gaining a new business partner that will help you with all your additive manufacturing needs. Every single one of our products aims to provide the best results to our users to help them improve their production line.
Fast prototyping, scalable mass production, and a perfect user experience are only some of the benefits that Zaxe Ecosystem offers you. It will be a simple, all-in-one solution to all your manufacturing needs.